PLEASE NOTE: THE INFO BELOW IS FROM THE 2013 SHOWS.
2014 COMEDIANS TO BE ANNOUNCED IN OCTOBER.
(Web site to be updated in September)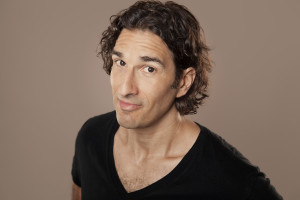 GARY GULMAN grew up in Boston and always knew he wanted to be a comedian. His brand of clever, original comedy has delighted audiences of all ages all over the US. Gary has had a tremendous amount of
success and has appeared on just about every late night TV show a
comedian can appear on: The Tonight Show with Jay Leno, The Late Late Show with Craig Ferguson, Last Call with Carson Daly, Jimmy Kimmel Live, and The Late Show with David Letterman. Other TV credits include
Comedy Central's Premium Blend, his first one hour special on Comedy Central, Gary Gulman: Boyish Man, Showtime Presents Gary Gulman, Dane Cook's Tourgasm on HBO, and finishing as runner-up in Seasons 2 and 3 of Last Comic Standing before appearing as a guest star on Season 4. Gary's comedy album No Can Defend from Comedy Central Records, debuted at #18 on iTunes. He has performed at over 100 colleges
including: Yale, Harvard, Brandeis and MIT.  This past April, Gary sold out the prestigious 1200-seat Wilbur Theatre in his hometown of Boston. He has performed at the NASCAR Year End Banquet, New York Comedy
Festival (at Madison Square Garden), HBO's Las Vegas Comedy Festival, South by Southwest Comedy and The Just for Laughs Montreal
International Comedy Festival. Gary was the host of New England Sports Network's Comedy All Stars and New England Emmy Awards and
appeared on National Lampoon's Rising Stars DVD. This past year Gary was busy shooting the feature film Lucky Them (starring Toni Collette, Thomas Haden Church, and Oliver Platt) which premiered at the 2013 Toronto International Film Festival in September. He released his second one-hour special for Comedy Central and Netflix, Gary Gulman: In This Economy? Gary opened for Louis C.K. on his sold-out tour earlier this year and taped John Oliver's New York Stand-Up Show for Comedy
Central. www.GaryGulman.com
ADRIANNE TOLSCH began her career in New York City at Catch a Rising Star and The Improv. She has headlined at every major comedy club in the United States, as well as casinos in Las Vegas and Atlantic City.
Adrianne has also performed internationally in London, Australia, and
Tasmania. She has opened for Jay Leno, The Pointer Sisters, Chita Rivera, Bobby Vinton, Pat Cooper, Clint Holmes, and Billy Crystal.
Adrianne garnered rave reviews for her performance on Broadway in 3 From Brooklyn at the Helen Hayes Theatre and co-hosted the syndicated radio show The Better Sex. She has received two Bistro Awards and three
Manhattan Association of Cabaret Awards for Outstanding Comedy
Performance. Most recently, she was honored with a Cabaret Hotline Award for her first one-woman show, Trucks, Guns and Mayonnaise, and again for her second show, None of Your Damn Business, a hilarious look at getting older. For Adrianne, aging is a "way of laugh." For the last
several years, Adrianne has been a regular cast member of the hit Off-Broadway revue, The Princesses of Comedy. She and her husband, Bill Scheft, a writer for Late Show with David Letterman, live in NYC. www.adriannetolsch.com
SAMSON KOLETKAR was born in Mumbai and raised Jewish. Growing up in the world's most crowded city, he spent most of his childhood years burning the midnight candles for earning a Masters in Computer Software, thereby fulfilling his parents' dreams. He then moved halfway across the world to the technology headquarters and a hotbed for emerging comics: San Francisco. As a first generation immigrant in America, Samson brings a refreshingly new approach to cerebral, witty, thought-provoking, clean humor with a global perspective. Driven by personal trials and tribulations, his subtle satire addresses religious and political hypocrisies, social issues, and day-to-day absurdities of human nature. He won the 2010 Asian American Theater Company Comedy Competition, has performed at clubs, colleges and corporations in India, Canada and 12 states in U.S. & has been featured on Asian Jewish Life, Indian Express, NBC, CBS and NPR. www.mahatma-moses.com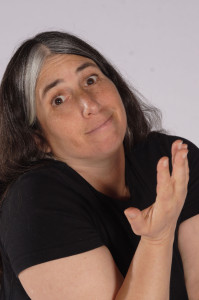 LISA GEDULDIG is a San Francisco-based comic and comedy producer who's originally from New Yawk where her entire suburban block was Jewish except the Mazzolas next door who had on their lawn the largest Nativity scene in the history of the world. Lisa is the creator, producer, and MC of a variety of comedy shows: Kung Pao Kosher Comedy; The
George Bush Going Away Party: An Evening of Political Comedy; Funny Girlz: A Smorgasbord of Women Comedians; The Color of Funny: A Multi-Cultural Comedy Show; A Muslim, A Mormon, and A Jew Walk into A Bar: The Comedy of Religion. Lisa has produced Charo twice at The Herbst Theatre. For the past 4-1/2 years, she has been running a monthly show Comedy Returns to El Rio at El Rio in San Francisco's Mission District where she began her comedy career 24 years ago. Lisa has also recently become a filmmaker; her first film, "Esther & Me," a profile of
octogenarian, Esther Weintraub, a former comedian (Funny Girlz 2003), and resident at The Jewish Home San Francisco made the rounds on the film festival circuit and screened at 12 festivals far in the US, Canada, and Europe. www.EstherandMe.com – Lisa also does freelance PR (arts, health, news, politics) in both English and Spanish.
www.SFPublicist.com
 **Hi res photos are available for download on the Press Page.
Past Performers:
2013
Gary Gulman
Adrianne Tolsch
Samson Koletkar
2012
Judy Gold
Scott Blakeman
Mike Capozzola
2011
Elayne Boosler
Avi Liberman
Jeff Applebaum
2010
Wendy Liebman
Joe Nguyen
Nathan Habib
2009
Jonathan Katz
Brian Malow
Hilary Schwartz
2008
David Brenner
Dan Naturman
Page Hurwitz
2007
Shelley Berman
Scott Blakeman
Esther Paik Goodhart
2006
Cathy Ladman
Dan Ahdoot
Stephanie Blum
2005
Wendy Liebman
Gregg Rogell
Betsy Salkind
2004
Judy Gold
Page Hurwitz
Brad Zimmerman
2003
Judy Gold
Ed Crasnick
Bruce Smirnoff
2002
Jeffrey Ross
Cory Kahaney
Eddie Sarfaty
2001
Cathy Ladman
Scott Blakeman
Lisa Kron
2000
Marc Maron
Page Hurwitz
Brian Malow
1999
Carol Leifer
Betsy Salkind
Dan Rothenberg
1998
Freddie Roman
Sara Cytron
Dan Lewis
1997
Henny Youngman
Charlie Varon
Judith Sloan
1996
Sherry Glaser
Josh Kornbluth
The Kinsey Sicks
1995
1994
Carol Leifer
Ed Crasnick
Sara Felder
Scott Silverman
Andrea Leigh Levin
Surprise Guest: Margaret Cho
1993
Suzy Berger
Scott Silverman
Stu Silverstein
© Copyright Kung Pao Kosher Comedy 2000-2014